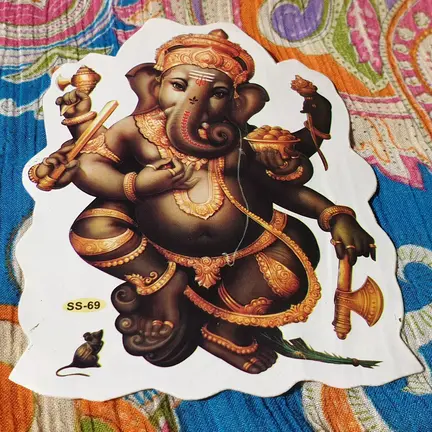 Dark gold Ganesha
€ 1,60
Item number: ind018
Big dark Ganesha vinyl sticker, also printed on the backside, so you can use it on your window.
12,5x9,5 cm


Dimensions: 125 mm × 95 mm
Ganesha a.k.a. Ganapati or Vinayaka, the elephant-headed Hindu god of beginnings, deity of good fortune, worshipped as a remover of material and spiritual obstacles. But he can also place obstacles for those who need to be checked. His name means "Lord of the People" and "Lord of the Ganas" (the demon gang of Shiva)
Ganesha is the son of Shiva and Parvati, created by Parvati of the mud of her body. One myth tells how he by mistake lost his head, and Shiva arranged for him to get a new head, of an elephant.

Ganesha is often depicted with his vehicle, a large Indian Bandicoot rat named Kroncha.