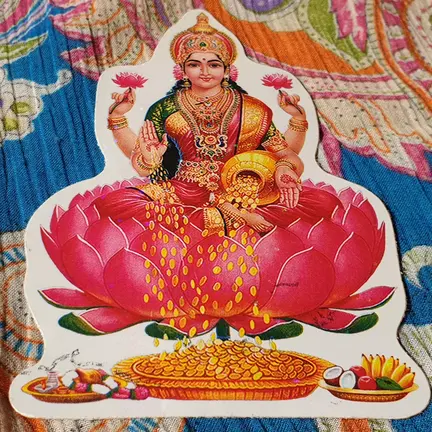 Dhana Lakshmi 2
€ 1,60
Item number: ind029
Lakshmi vinyl sticker, with glitter hologram overlay effect, also printed on the backside, so you can use it on your window.
Dhana Lakshmi, an aspect of the Godess meaning Money Lakshmi, is the goddess of wealth.
12x8 cm

Dimensions: 12 cm × 8 cm
Lakshmi is the Goddess who leads to one's goal (lakshya in Sanskrit), hence Her name Lakshmi.
Dhana Lakshmi, an aspect of the Godess meaning Money Lakshmi, is the goddess of wealth.
For mankind, 8 types of goals are necessary - Spiritual enlightenment, food, knowledge, resources, progeny, abundance, patience and success
Lakshmi is one of the traditional Hindu mother goddesses, and she is often addressed as "mata" (mother) instead of just "devi" (goddess).
With Parvati and Saraswati, she forms Tridevi, the holy trinity